---
Dental braces are mostly perceived as a procedure for younger people, however its never too late for an adult to consider straightening their teeth.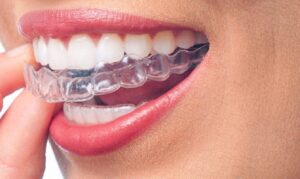 Most people worry about how they will look with braces. However, Invisalign uses virtually invisible, removable and comfortable aligners that are made with 3D computer imaging software and are proven effective at straightening teeth in relatively short periods of time.
Why should I use Invisalign, you may ask? Well, its a clear and transparent aligner; which means that you can go about your day to day without most people ever knowing that you have aligners in. So its a lot more comfortable for people who may be self-conscious about wearing braces. Don't worry about it! Invisalign aligners are designed so that you don't have to feel awkward wearing them.
They are also removable, which makes it much easier to eat and drink the things you enjoy without worrying about things getting stuck in the braces. This makes them a lot more comfortable than traditional braces, which improves your overall experience throughout the straightening process. Being able to remove the aligners is a huge benefit that traditional methods do not provide.
Our virtual treatment plan enables you to see what your teeth will look like after the alignment is completed. So you'll have a positive goal to work towards! The average timeline is 9-15 months, depending on the severity of your tooth alignment.
If you have questions about this process, please call us to schedule a visit with our Invisalign specialists. We'll review everything in detail and develop a customized treatment plan to fit your lifestyle.
1 Response to Why Choose Invisalign over Braces?